What is a track or song?
A Track or Song is considered one music file that is less than 100MB. How can I upload a track? Please click "Catalog/Releases-Tracks" and then choose "Upload Tracks". You will be redirected to the page for uploading tracks.
What is a product?
A Product is a single or an album that is being prepared for release or is already released. How to find all my products?
Let's navigate to "Catalog/Releases-Products"
.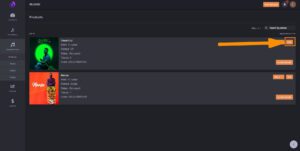 Click "Edit" to submit your release or review what you have added
What is an album?
An album consists of 2 tracks or more. You can add as many tracks as you prefer so long it is within the number of tracks you can distribute under your current Apprise Music subscription plan.
What is a release?
A release is a single or an album you are preparing to or have already distributed to a streaming service outlet.
What is/are the participant(s)?
Participants are anyone who contributed to the track that you are releasing, for example, composer, artist, label, author, and so on. You can dictate the royalty splits between all participants as well. How to manage my participants? Please go to "Payment-Participants" to add new participants, input their PayPal email addresses, and fill in their outlet profiles (optional).
What is an outlet/music store?
An outlet is a download or streaming service such as Boomplay, Apple Music, Spotify, etc.
What does "Explicit" mean?
Some artists use profanities in their music lyrics. In these situations, the music should be labeled as explicit.
What is UPC/EAN?
EAN stands for "European Article Number", UPC stands for "Universal Product Code." Both serve the same purpose; both are unique numbers that represent your product (single or albums) and set it apart from every other product. You can use either EAN or UPC. We are providing EAN for free and auto insert it. However, if you want to use your own you can.
What is ISRC?
ISRC, the International Standard Recording Code, is the internationally recognized identification tool for sound and music video recordings. It is a unique number that represents your track and sets it apart from every other track. We are providing those for free and auto insert them. However, if you want to use your own you can.