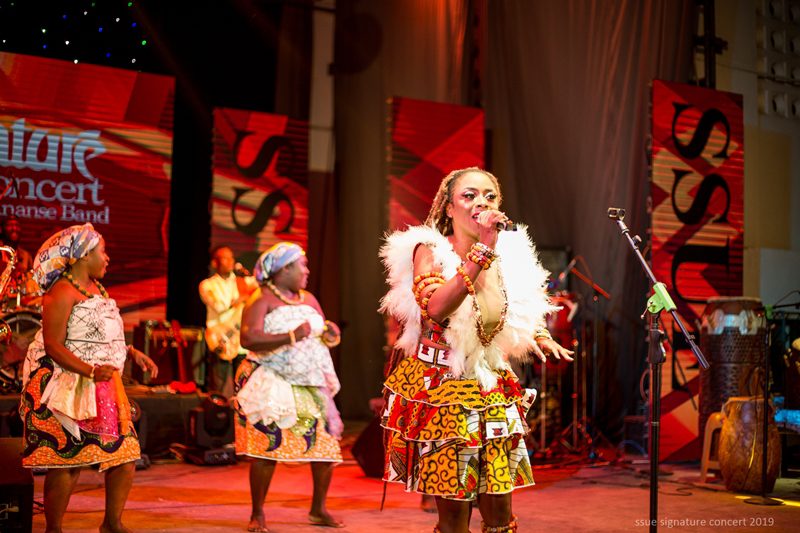 Ghanaian singer, SSUE, is scheduled to perform at this year's Music Imbizo in Durban, South Africa and she says viable platforms that seek the growth, promotion, and transformation of popular music in Africa must be supported by everyone across the continent.
She was speaking to mynewsgh.com during a break in rehearsal at Scratch Studios in Accra towards her August 30 gig at Music Imbizo in the Durban City Hall in the province of KwaZulu-Natal.
SSUE said initiatives that help expose talented young acts to audiences and consumers and offer avenues for them to share stories and experiences around music are fantastic ways to cultural and economic growth on the continent.
The Music Imbizo started in 2008 and is a fast-growing annual international music business conference and exhibition. It is a platform to network and shares expertise and knowledge.
The conference collects various music industry stakeholders – music makers, industry executives, composers, promoters, producers, associates and those simply with a passion for music – under one roof to map the way forward for the music industry in Africa. This year's program is from August 28 to August 31.
"Africa is a continent of the rich and diverse cultural output of a high global standard. We need to build solid relationships and rub shoulders as often as possible with the best of the best in our fields. The celebration of our diversity hurts nobody. It only makes us stronger," SSUE emphasized.
Imbizo is a Zulu word meaning a gathering, usually called by a traditional leader. SSUE will travel with the Ananse Band. Apart from her, there will also be leading performers from South Africa, Zanzibar, Nigeria, Kenya, and Uganda.
SSUE's entourage will also include Messrs Kofi Amoakohene, Chief Executive Officer (CEO) and Paa Kwesi Holdbrook-Smith, Associate Executive Director, both of Scratch Studios and Mr. Michael Bamfo, C.E.O of Apprise Music & Media.
Scratch Studios has been regular at the annual Marche International du Disque et de edition Musicale (MIDEM) music fair in Cannes, France. It was at the 2017 MIDEM event that SSUE, who is on the Scratch Studios label, first met the organizers of Music Imbizo.
Apart from performing in the Durban City Hall, she will also have the opportunity to meet promoters and other big players in the industry from outfits like Warner, Sony, and Universal.
Mr. Holdbrook-Smith will be part of a panel discussion on the problems and solutions to content ownership. He over 30 years of experience in the music industry and has worked in a variety of capacities with acts like Osibisa, Steel Pulse, Ebo Taylor, Reggie Rockstone, Anthony B, Culture, Lucky Dube, Manu Dibango, Miriam Makeba, Antonio Zimba, and Angelique Kidjo.
Mr. Michael Bamfo will participate in a forum and talk about Apprise Music & Media, a digital distribution platform with Ghanaian origin. It helps musicians to gain affordable and equal access to all channels of digital music distribution with a keen focus on artistes from Africa.
Mr. Amoakohene told mynewsgh.com that fairs like MIDEM and Music Imbizo give artistes appropriate platforms to market themselves and their products. He is disappointed Ghana has still not got its act together to stage such events despite over six years of prodding from Scratch Studios.
Source: MyNewsGh.com/ Kouame Koulibaly/2019