Ivorian Guitarist/Composer/Producer Constant Boty is among a select group of West African musicians who have masterfully balanced and blended the often contradictory elements of innovation and tradition.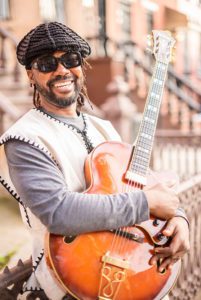 He is embarking on a very exciting musical journey, yet an emotive, if unusual experience he calls it: 'Constant Boty & The AfroWorld Experience', featuring his fellow West African Master musicians and educators: The reserved Aaron Bebe Sukura who is a Ghanaian multi-instrumentalist (harp-lute, thumb-piano, bamboo flute, guitar, balafon), the Maestro Osei Korankye who is a Ghanaian musician known as the Master of Seperewa, an instrument that was the precursor to the guitar in West Africa, and which, according to the Korankye, was the basis of highlife Music.
Osei Korankye plays the seperewa so well, having increased the number of strings to 14. On percussion is the magnificent Mustapha Borquaye, a veteran Ghanaian percussionist who has been collaborating with Aaron Bebe's 'Local Dimensions band' for many years.
The repertoire of this band will consist of each member's originals and some spontaneous jam over popular West African folk tunes. Guitarist Constant Boty incorporates wide ideas of sweet ambient guitar sounds and effects, giving to their creations a newly expansive, orchestral breadth that substantially widens the music's scope.
Explaining the theory, Boty said that his idea for this journey "is to abandon the rules of the classical music rules completely and apply my own West African harmonic liberty to the amazing voices of Osei Korankye and Aaron Bebe," but it's not even necessary to know all of that; all a listener needs to appreciate is the ability to open up fully, surrender to the washes of sound and allow these sonic explorations to sink in deeply.
Each of the songs for the repertoire we set is a pastiche of textures and shapes, music that merges with the air around you.
It will feel as if you were in West Africa, feeling the sun, the stress-free lifestyle, the flexibility is a thing of beauty, remarkably seductive despite Apr 19, 2020 – Despite social distancing forcing people into isolation during the COVID-19 pandemic, the "One World."